Spend time on your experiments, not your equipment
Stable Laser Systems is the premier supplier of components and systems for frequency stabilized lasers at any wavelength. We design robust breadboard, fully integrated, and lightweight, transportable rackmount systems with low frequency drift at sub-Hz to Hz linewidths for research laboratories, industrial settings, and field applications. From fiber-coupled cavities, transportable vacuum systems, PDH detectors and noise-cancelation electronics to Hz-level Ti:Sapphire systems and rack-mounted, auto-locking 1550 nm systems, we have the expertise to engineer your ideal system in a fraction of the time. Call us today to discuss your unique frequency stability needs.
Learn about our options for customization
Visit Us at DAMOP

June 1 – June 5 2020
Portland, OR
Unprecedented Commercially-Available Stability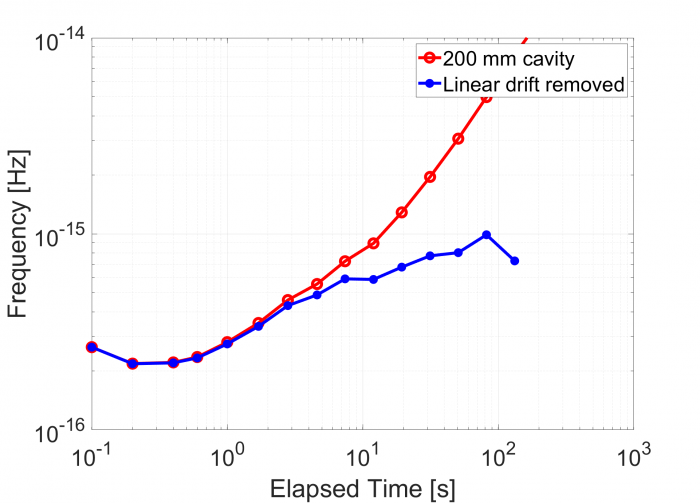 Allan Deviation of a 200 mm ULE cavity spacer, derived from a three-cornered hat measurement. This laser system uses a 1550 nm fiber laser, locked using SLS's versatile FPGA locking electronics. The red points are calculated using no drift removal, and the blue points are after the cavity drift of ~80 mHz/second is removed during analysis. This drift may also be removed via feed-forward using the FPGA locking system, for drift-free performance.